Model No. and Name
TY-300S Digital Impact Tester
Usage and Features
TY-300S digital impact tester is semi-automatic control, the electric appliance control automatic pendulum, impact and setting, easy to operate, high efficiency. After the test sample is broken, the residual energy is used to automatically raise the pendulum, preparing for next impact test, so this machine is more convenient for the lab and manufacturer which need to do continuous or large quantities of impact test.
Pendulum impact machine is used to measure the impact resistance performance of metal materials under dynamic load, to determine the properties of materials under dynamic load. To obtain the impact absorbing energy by collecting the data on the dial before and after the pendulum impact. The maximum impact energy is 300J, with a 150J pendulum, and the sample section is (10 x 10) mm. This machine has a large impact energy, which is suitable for ferrous metal with strong impact toughness, such as steel and alloy.
TY-300S is equipped with LCD display controller and double - control double display function. LCD display controller adopts PLC control and measurement. So this machine can test out the rebound angle of the pendulum by spin encoding after test sample is broken. Then it can automatically calculate and display the value of rebound angle β, absorbed energy, and impact toughness ak value. This tester can be equipped with micro-printer, to print out the test data, average value of three tests, test time and serial number, etc
The main body adopts cast steel material, which makes it rigid and stable during the whole test process, strong resistance to impact, not easy to deform, accurate test results and long service life. The machine used a large torsion clutch and a large power motor, which makes it more stable and vibration-free when the pendulum and swing are placed.
Standard
The machine is developed according to GB/T 3808-2002 "test of Pendulum Impact Tester", and carry out the impact test to metal material according to GB/T 229-2007 [Metal material Charpy pendulum test method". This machine confirms to JJG 145-2007 [pendulum Impact Testing Machine verification procedures". It can meet the requirements of ASTM E23, European standard EN 10045, ISO 148, ISO 83 and other international standards at the same time when change the structure and replace the parts.
Technical Specification
Impact energy

300J

150J

Dial scale range

0-300J

0-150J

Minimum lattice indexing value

2J

1J

Pendulum Torque

0-300J

M=160.7695N.m

0-150J

M=80.3848N.m

Pendulum pre-elevation

150°

Distance between center of pendulum and sample

750mm

Impact Speed

5.2m/s

Bearing span of test sample

40mm

Radius of pedestal jaw

R(1.0~1.5)mm
(1mm is Special customised)

Radius of impact blade

R(2.0~2.5)mm
(8mm is Special customised)

Inclination angle of support surface

11°

Impact blade angle

30°

Impact blade thickness

16mm

Angle measurement range

0-360°

Angle resolution

≤0.06°

Sample size

10×10(7.5 or 5)×55 mm

Mainframe size(L*W*H)

2150*640*1400mm

Mainframe weight

420kg

Power

3-phase 4-wire, 380V 50Hz 400W

Main motor 250W
Working Condition:
1)RT20℃±5℃
2)relative humidity≤85%
3)no corrosive medium, no vibration, no strong electromagnetic interference environment
4)Installed on concrete foundation which is more than 200mm thick or fixed on the base of more than 1400Kg.
5)The base level is adjusted to 2/1000.
Main Components
| | | |
| --- | --- | --- |
| 1 | 300J mainframe | 1pc |
| 2 | 150J pendulum | 1pc |
| 3 | 300J pendulum | 1pc |
| 4 | LCD controller | 1pc |
| 5 | Alignment plate | 1pc |
| 6 | sample centralizer | 1pc |
| 7 | Detacher(for pendulum changing) | 1pc |
| 8 | Anchor bolt | 4 pcs |
| 9 | safety device | 1 set |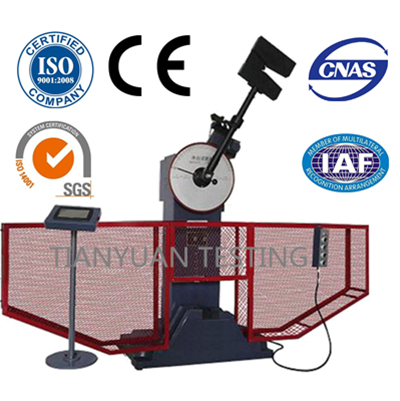 Looking for ideal Pendulum Impact
Testing Machine
for Metal Manufacturer & supplier ? We have a wide selection at great prices to help you get creative. All the Pendulum Impact Test Machine are quality guaranteed. We are China Origin Factory of Pendulum Impact Testing Equipment. If you have any question, please feel free to contact us.
Product Categories : Plastic Test Machine